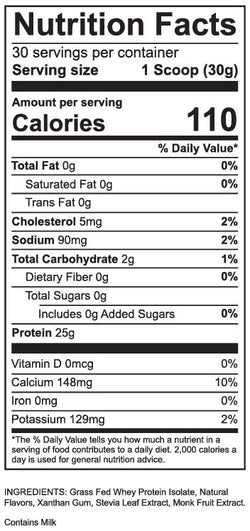 About Our Ingredients
Grass Fed Whey Protein Isolate: We source our whey protein from grass-fed cows to provide the highest quality whey protein on the market. Furthermore, our protein is whey protein isolate, not concentrate. This means the carbs and fats that are naturally found in milk have been removed, leaving you with the most pure form of protein possible. Because of this, our protein contains more protein and less calories per scoop.
Did you know that whey protein isolate is generally tolerated better by those who are lactose intolerant? This is because the lactose is removed in the process! Our protein will is not only the highest quality you can get, but it's gentle on the stomach, too!
Natural Flavors: All our products are naturally, not artificially, flavored in order to maintain the highest quality of the product while providing the most decadent, Italian inspired flavors.
Natural Sweeteners: Just like our flavors, our sweeteners are all natural, too! Never artificial. We use small amounts Stevia Leaf and Monkfruit Extract in order to provide a natural and calorie free source of natural sweetness.
A BRAND YOU CAN TRUST. A TASTE YOU LOVE.
Our protein supplements are made from the highest quality ingredients and are third-party tested to ensure there are no harmful additives, ingredients, levels of heavy metals, and that what is on the label is in the product, guaranteed.
Why Choose Vitalura Labs
There are 25 grams of protein in every serving and 30 servings per package. That's more strength in every scoop.

Our grass fed whey isolate formula is a protein-dense, highly bioavailable supplement that's lower in calories and contains little to no lactose or unnecessary additives.

No artificial flavors. We chose natural vanilla and chocolate flavors to maintain the quality of the product while providing a decadent, Italian-inspired flavor experience.

No extra calories from sugar. We use Stevia Leaf extract and Monk Fruit extract to provide a delicious, natural and calorie-free source of sweetness.

Our formulations are developed by a professional team of experts, including a Registered Dietitian.

NSF Contents Certified. Vitalura Labs is third-party tested to meet strict standards for public health protection so you know that what's on the label is in our product. Guaranteed.
I love this protein!!
By far the best protein out there. Amazing taste, clean and not overpriced! So glad to have found Vitalura Labs! Thank you!!
Excellent protein powder!
I previously ordered the plant based powder & wanted to try the grass fed whey. It did not disappoint! I love the taste & the fact that it has good wholesome ingredients. Finally a good protein powder I can feel good about using!
Excellent
I ordered the vanilla gelato because the chocolate is out of stock. Love it. Very impressed with the quality of the products from Vitalura! Highly recommended
The best protein!
Vanilla gelato flavor is amazing! And the shipping was so fast!
Grass Fed Whey Protein Isolate - Vanilla - SO good!!
I've always been a chocolate person when it comes to protein shakes. When I try vanilla flavors, I get a weird aftertaste. However, I decided to give it a chance with Vitalura labs. I was pleasantly surprised! I didn't have that weird aftertaste! It's so smooth, delicious, and its so versatile - I'm excited to try it in smoothies, oatmeal, or even in baked goods!